The cyclist is a special breed, and openness is an important beginning
If you have found our school, chances are you have been looking for courses on bicycle repair and found that in Canada the resources are few and far between. This is exactly what the founder of Central Alberta Bicycle School and our instructors discovered earlier in this decade. Arguably the best program at that time was in Toronto, which was created by a very talented and methodical lifelong mechanic named Jerzy Dymny. Mr. Dymny now teaches at his school on the coast of British Columbia from his bike shop and classroom Quadra Bike School. This is the very teacher and place our instructors were certified in the discipline of Bicycle Mechanics.
We plug Jerzy Dymny here simply because; after building a full service bicycle shop in the middle of a small town in central Alberta, the skills achieved and the discipline learned has proven to be a superior skillset when working in the field of bicycle service. We stand by Mr. Dymny, and suggest openly; look into his school and if you choose to venture west, we wish you the best and know that you will learn well, and come back a great mechanic.
Proximity and easy access is key for accessing bicycle repair courses
Back when our instructor needed the training, distance was a factor and in Alberta there very few places available offering bicycle repair training. One could only find one-off Park Tool classes offered by bicycle retailers. These quick courses do not prepare the student to practice any real standards which take into account mechanical tolerances, manufacturer minimal specifications and safety.
Any bicycle assembly maintenance training given must have the ability to drive home a set of standards that will allow the student to stand out.
At Central Alberta Bicycle School, we have created the CABS Bicycle Repairs & Wheel Building and Truing Course based on the best published resource available. The course is presented in our three level teaching approach.
Daily reading assignments with quizzes -Tracked by our Learning Management System, which allows the student to track their progress, and can be used at any time afterwards for review. Final Course Exam is conducted on a one-to-one hands on session between one student and instructor.
Daily In Classroom Hands-on Illustration - Our instructors provide step-by-setup illustrative instruction through real-life bicycle servicing issues. This is followed by students doing the work on other bicycles each day. Good practices, proper tool handling and history are all part of the this learning environment.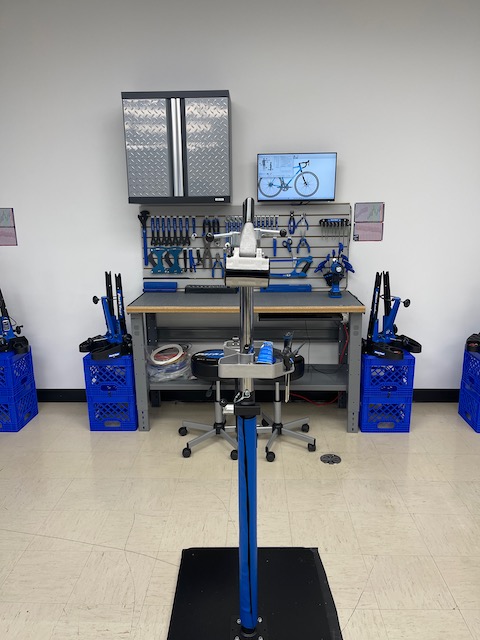 Hands on instruction creates a great learning environment.
Courses are in-class, hands-on and conducted on the shop floor of Circuit Cycle & Sports in Millet, Alberta. An intimate environment and clean relaxed shop, students will have a safe pressure free space to learn the skills needed properly and efficiently repair bicycles.
Class can be up to ten(1) students. Ensures that all questions are addressed by the instructor and each student can learn from each other as they work through every step.
Marking and Passing Grades to move onto the next level
Each course requires a minimum passing grade of 90% with a final exam mark of 100%
Each practical test contributes to 70% of the overall grade
Reading Assignments contribute to 20% of the overall grade. This is monitored through random discussion with instructors and snap oral questions during class to ensure the chapters have been covered.
The Final exam contributes to 10% of the overall grade.
For our website Privacy Policy click HERE.
Location, Amenities and Services?
The program and courses are provided on the shop floor of a professional bike shop, Circuit Cycle & Sports which is located in the Town of Millet. If you are from further away than Edmonton, Wetaskiwin and Camrose, you may have to call Millet home for for a few weeks.